Having a thank you page for your readers after they have been courteous in leaving a comment to one of your posts can be a nice surprise for the reader not to mention it's just polite (isn't that what your momma taught you?).  
I've had some requests from some readers who would like to set up a thank you page on their own blog. So, I want to share with you today how to go about doing this so you can also give your readers that nice unexpected surprise when they leave a comment.
I'll walk you through it step by step in this video: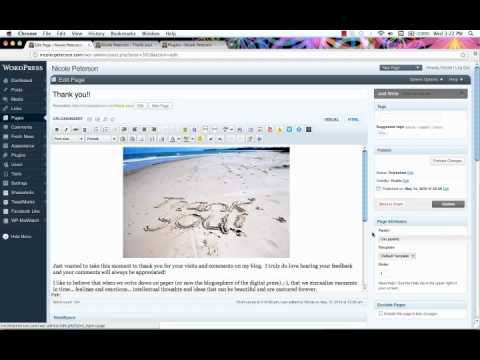 To summarize:
First thing you will need to do is install and activate 2 plugins called:
Go to 'Pages' and 'Add New'.  The thank you page is actually one of the pages on your blog.  But we will set it up so that it will be hidden.  Design this page the way you want and write what you want to say to your readers.  Thank them for taking the time to leave a comment and let them know how much you appreciate their thoughts.  You can even add a video message to this page if you wanted to.  Have fun and be creative.
Before publishing this page, you will see an 'Exclude Pages' box on the right hand side that has a checkbox that reads 'Include this page in lists of pages'.  You will want to make  sure this box is left unchecked.  This will ensure that it will not show up as a page at the top of your blog.  Save this page and publish it.
Go to your 'Plugins' and then 'Comment Redirect'.  It will say 'Redirect to:' with a drop-down menu box.  Within this box is a list of all your pages.  Pick the Thank you Page and save.
That's it.  You're done.  The plugins do all the work for you!  The Comment Redirect will automatically redirect your comments to your hidden Thank You Page!
If you haven't seen what my thank you page looks like, feel free to leave me a comment below and find out for yourself!  Or if you have any great ideas for a thank you page that you've done or that you would like to do, please share them in the comments section below.
And, please share this blog tip with your blogging friends and colleagues on Facebook and Twitter.  They may just thank you for it!  
Thank you for being you!